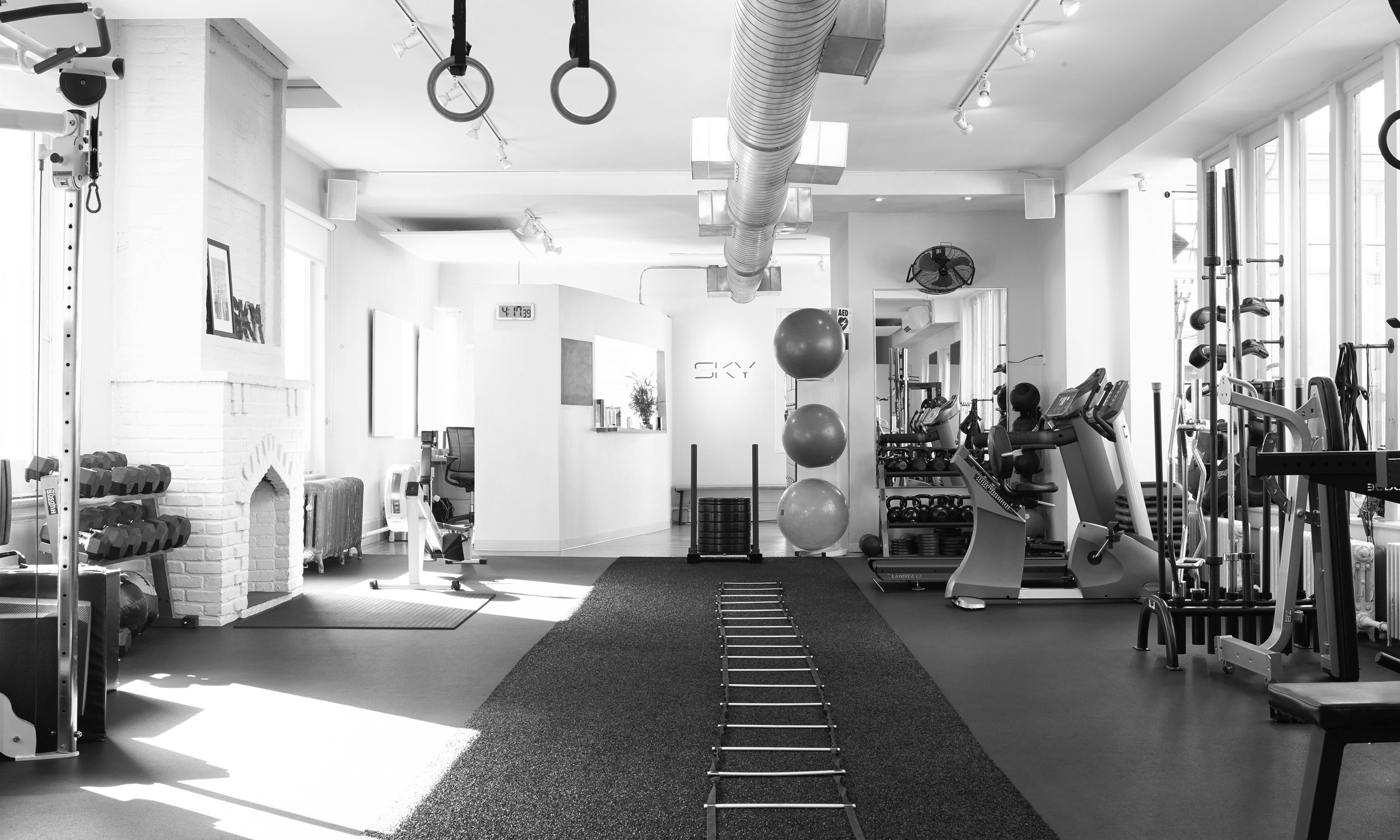 A private wellness facility geared toward
helping you find your healthy center.
Sky Health NYC PHILOSOPHY
Our philosophy at Sky Health NYC reflects that of a new work space. A concept for fitness that meets the expectations of the practitioner utilizing the space. From Physical therapy to Boxing from Personal Training to Yoga and Tai Chi, our network of health and fitness experts maintain the best practices to help you reach your goals and succeed. Whether you're on the road to recovery or need a space to train, we are reimagining the way you do Health.
REACH YOUR BEST
At Sky Health NYC, we are physical therapy and fitness experts who team up to design integrated strategies to help you achieve more than you imagined. We get to know you one-on-one, so we can encourage your progress and coach you to lasting results. Your goals matter to us because we know what it means to strive for more. By drawing on the latest in evidence-based physical therapy, training methods, sport-specific expertise, and nutrition science, we approach your goals from multiple angles so you can push through--past limits--with sustainable results.
Location
251 5th Avenue, 7th floor, NYC 10016 (near 28th Street)
Space Hours
MON-Sat 5AM-10PM Sun 6AM-9PM
Contact
A SMARTER WAY TO RECOVERY
Recovering from an injury can be frustrating. Athletes often interrupt intensive training while others struggle with restricted mobility and fear of new limitations. At Sky Health NYC, we know that being active means injury is almost inevitable--it's a part of an active life. But through active management, Sky Health NYC can help you train through your recovery and emerge stronger. And smarter.
We work with you to alleviate pain, strengthen for targeted movements, and incorporate what you learn into your training and daily life. For lasting results, this means we create a workout routine that makes you sweat, while protecting and strengthening your injured area. Even for the less active, we teach new ways to move that prevent re-injury and help you live a better life.
You're a trainer? Want to train your client here at Sky Health NYC?
CLAUDE Hillel
PHYSICAL THERAPIST AND FOUNDER OF SKY HEALTH
At its core, Claude's interest is an earnest desire to help people, and a fascination with the mechanics of human body movement. Claude brings an extensive amount of knowledge to the SkyHealth Team, with over 20 years of practice. He has worked with a diverse range of patients, ranging from high-performance athletes to those suffering from serious and potentially life-altering ailments. Through keen observation and skilled manual therapy, Claude's attentive and caring nature helps patients transcend the cause and effect of injury, and helps them build the strength and confidence to return to their active lives.
MORGAN MANASSE
Physical Therapist
Morgan is a Doctor of Physical Therapy. She started MoRE Physio in 2014 after working for some of the top sports medicine clinics in NYC, but she disliked the pressure she felt to see more patients in less time. Bringing MoRE to SkyHealth has enhanced Morgan's ability to give each of her patients the personalized attention they deserve.
SHERRY DUBASH
Physical therapist
Sherry is a board-certified PT in the State of NY and has been practicing since 2011. Sherry values quality over quantity, targeted yet holistic treatment sessions, and prevention after recovery. Having adopted the one-on-one based PT model, she observes a striking increase in percentage of quicker recovery time, a decrease in re-injury, and excellent compliance. Sherry's passion is working with musculoskeletal and orthopedic injuries using a creative approach that incorporates manual therapy techniques, yoga principles, and Kinesiotaping®.
JONATHAN ACIEGO
General & Operations Manager
As General & Operations Manager, Jonthan is responsible for overseeing the daily operations at SkyHealth. A pre-med major and former college athlete, Jonathan's experience allows him to bring unique leadership to the SkyHealth Team, understanding both sides of our practice: he brings our physical therapists and personal trainers together in order to promote SkyHealth's symbiotic environment of recovery and growth. Prior to SkyHealth, Jonathan worked at the Cornell Medical College in the Rehabilitation Medicine Department and at the Hospital for Special Surgery in the Department of Orthapedic Surgery.